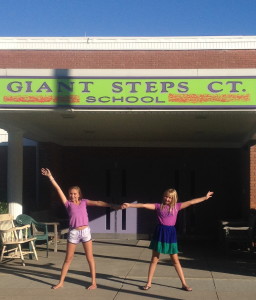 Enrollment Information for Giant Steps School
Giant StepsConnecticut is licensed and approved by the CT State Board of Education to accept students with Autism Spectrum Disorders and related Neurological Impairment including pervasive developmental disorders, sensory regulatory/integration dysfunction, language disorders including aphasia and dysphasia, and other genetic, metabolic and mitochondrial disorders or syndromes. We serve students from two years and nine months to twenty-one years of age.
Criteria For Admission
Enrollment in Giant Steps program requires an initial intake consisting of:
An interview and tour of our school with the student's parents/guardian

A review of  student records

A completed application of enrollment

A screening observation of the student
If the referral is through the student's school system, a Planning and Placement Team (PPT) meeting will be held.
Diagnostic Evaluation
Upon admission to Giant Steps there is a six to eight week period during which time he/she participates in a diagnostic evaluation in each of the therapeutic areas and academics. This diagnostic period includes clinical observations, when possible standardized evaluations, videotaping, and trials of specific treatment techniques.
At the end of this period there is a multidisciplinary (MD) team meeting/PPT to develop an individualized program for the student. This MD team includes: parents, district personnel, and Giant Steps Staff. The Giant Steps staff includes Special Education Teacher, Speech & Language Pathologist, Occupational Therapist, Music Therapist, Specialists in Behavior, Assistive Technology, Activities of Daily Living, Play and Social Communication, Instructional Assistant, Administrator, and a Nurse, Physical Therapist or Vocational Specialist as needed. 
If you would like to schedule a tour and interview please call 203.254.3491 or email us.